Love Your Breasts, Inc. is an organization dedicated to educate and heighten awareness of breast cancer and other cancers in our communities with emphasis on minorities. To provide basic health information, overall wellness tips and support services through a monthly cancer support group and quarterly Look Good Feel Better programs.


---


Angela Darling M.S., RN
Founder and Executive Director of Love Your Breast, Inc.

Angela Darling is a former registered nurse who worked as a nurse manager/supervisor for 29 years from June 1970- June 1999. It was June 1999 when Angela was diagnosed with early stage breast cancer. June 2007 marks her eight year survivorship. Angela involved her personal breast cancer battle into a positive mission of survivorship, advocating and community outreach to inspire and educate women and men. Following her God guided spirit. Angela launched an educational quarterly free breast cancer newsletter in October of 2000. The newsletter was entitled "Love Your Breasts". Its goal was to educate and heighten breast cancer awareness in our communities. This local newsletter is now nationally distributed via liaisons located in Florida, Atlanta, Los Angeles, Philadelphia, Jamaica West Indies, to name a few, in addition to other NY state boroughs.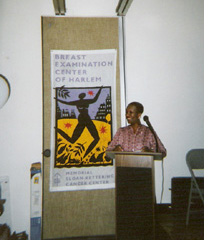 Angela is the Founder and the Executive Director of Love Your Breast, Inc. (LYBI). LYBI was incorporated in 2002 and deemed by the IRS as a tax exempt nonprofit organization in April of 2003. LYBI provides support services via a cancer support group at Barnes and Noble at Bay Plaza. LYBI also participated in the "Look Good, Feel Better" programs at the North Bronx Development Center. In July 25, 2004 LYBI was awarded, Health Awareness Organization of the Year by the Disilgold Soul Literary Review Magazine. You can book Angela for health fairs, wellness seminars, guest speaker presentations and alternative therapy consultations. Angela Darling is recognized for her expertise in critical educational facts regarding breast cancer, overall wellness, and health prevention presentations. She is no stranger to television due to appearances on Bronx Net Cablevision Channel 68- in October of 2002, WPIX Channel 9- in June of 2003, News 12 the Bronx- in December of 2003, and NYI- in February of 2004. Angela is also no stranger to radio broadcasts due to her interviews on 93.5 FM in April of 2004 and 98.7 Kiss FM Bad Boy Michael Baisden Show in August of 2004. Angela earned her Bachelors of Science degree Magna Cum Laude from Mercy College in 1981 and a Masters of Science degree from Iona College in 1997. Angela is a member of the National Nurses Association, The Breast Cancer Coalition and the International Library of Poets. Three of her poems have been published in the U.S. Angela was nominated for inclusion in the International Who's Who in poetry publication in September of 2004. Angela has been recognized in the Strathmore's who's who 2004-2005 edition for demonstrating leadership and business achievement.